Good afternoon!! The rum and chocolate truffles are so good and spectacular that one leads to the other.
They're pretty aren't they? Don't you want to eat one? or even everyone?
I made them as a dessert for a dinner and everyone liked them.
Obviously there were no children, otherwise I wouldn't have put the rum in it.
The preparation was quick and ideal especially in summer when it's hot, because there is no need to turn on the oven.
So what do you think? Do you like them?
I leave you with the recipe for chocolate rum truffles.
See you for the next recipe!
Nea!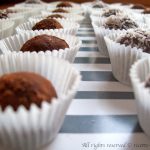 Thermomix Rum Truffles
Ingredients
100

gr

dry biscuits

(pavesini type)

150

gr

dark chocolate

50

gr

sugar

cocoa powder

enough

75

gr

soft butter

2

tbsp

rum

grated coconut

enough
Instructions
Put the dry biscuits in the bowl, pulverize: 10 sec. speed 9 and set aside.

Now put the chocolate in pieces in the bowl, powder it: 10 sec. speed 10.

Add sugar and butter, melt: 3 min. 70° speed 2.

At this point, pour in the rum and the crushed cookies, mix: 20 sec. Spatula speed 3.

Place the mixture in a bowl to keep in the fridge for at least 30 minutes.

After the time has passed, form balls, with the help of a teaspoon, pass them in cocoa powder or coconut flour and place them in mini truffles cups.

They are ready to be served, or put them back in the fridge… Bon Appetit!