Last Tuesday I prepared the Sicilian orange cake cake and after having tasted it I wondered why I had never tried it before.
It is very simple to prepare, but above all it is of a unique goodness.
The orange should be used whole, please check that it has not been treated, because you will need both the juice and the peel.
The origin of this recipe is Sicilian and is typical of the winter period, it has an unmistakable taste and aroma that everyone, both young and old, will like.
It is one of those waste-free cakes perfect to prepare in the company of your children and you will be amazed at how easy it is to prepare.
And then what better way than to prepare a cake to celebrate the blog's birthday?
I leave you with the recipe for the thermomix Sicilian orange cake.
See you for the next recipe!
Nea!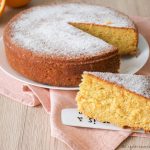 Thermomix Sicilian orange cake
Total Time
1
hour
30
minutes
Ingredients
1

large

organic orange

washed and cut into pieces (with the rind, but remove the seeds)

250

gr

plain wheat four

3

eggs

180

gr

sugar

100

gr

sunflower oil

50

ml

milk

(or water)

16

gr

baking powder
Instructions
Put the washed, dried and cut into pieces orange (with all the skin) in the bowl, chop: 10 sec. speed 5.

Combine at the bottom with the help of a spatula and add the flour, eggs, sugar, oil and milk, mix: 1 min. speed 4.

Pour the mixture obtained into a baking dish (22 cm diameter) lined with parchment paper or with a detaching agent for baking sheets.

Bake in a preheated oven at 170 degrees for about 45 minutes (always do the toothpick test).

Let it cool completely and serve sprinkled with icing sugar as desired… Bon Appetit!
Recipe Notes
Please use only untreated oranges for this preparation, since they should be blended whole with the skin and those with thin skin should be preferred.