Here I am with a new recipe perfect for weekend breakfast: classic waffles!
I love eating them with maple syrup, but they can be served in a sweet version with fresh fruit, honey or stuffed with Nutella, or even in a savory version with crispy bacon and eggs or spreadable cheese.
Waffles come from Belgium, but have become very famous in the rest of the world, especially in America.
They have a soft texture and a typical honeycomb shape due to cooking on the appropriate plate, once cooled they can be frozen in food bags.
I leave you with the recipe for the thermomix waffle.
See you for the next recipe!
Nea!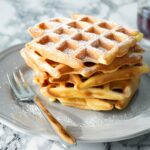 Waffles
Ingredients
2

eggs

80

gr

sugar

60

gr

melted butter

180

gr

plain wheat flour

180

gr

milk

8

gr

baking powder

1

tsp

vanilla extract
Instructions
Separate the egg whites from the yolks. Put the butterfly in the bowl and add the egg whites, whisk: 2 min. 30 sec. speed 4 and set aside.

Remove the butterfly from the bowl and without cleaning it, add the egg yolks, sugar, melted and warm butter and vanilla, mix: 30 sec. speed 4.

Finally add the milk, mix: 1 min. speed 4.

Add the whipped egg whites to the batter obtained until stiff, mixing them gently with movements from bottom to top.

While the batter is resting, heat a waffle maker.

Pour a few spoonfuls of dough onto each plate and cook for about 5-7 minutes.

Serve warm with maple syrup or with cream and fruit… Bon Appetit!
Recipe Notes
For those who are intolerant to dairy products, find the butter-free recipe here.
They can be stored for 2 days closed in an airtight container.
It is possible to freeze them once they have cooled completely.