Good afternoon everybody!
Today on the blog there is a new recipe, we cook a second course of typical Italian seafood, this is in fact a dish easy to find throughout the peninsula.
To cook the cuttlefish and peas, I was really inspired by the land of my mother: Calabria, with its sea and its inhabitants.
The recipe was taken from the basic recipe book, to which I made some small variations in order to make it more personal.
I leave you with the recipe for the thermomix cuttlefish and peas.
See you for the next recipe!
Nea!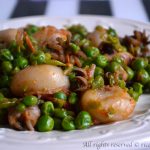 Thermomix Cuttlefish and peas
Ingredients
600

gr

cuttlefish

300

gr

peas

100

gr

white wine

40

gr

extra virgin olive oil

1

clove

garlic

(optional)

2

tomatoes

or peeled tomatoes

1

bunch

parsley

hot pepper

enough (optional)

salt

enough
Instructions
Put the garlic and parsley, mince: 5 sec. speed. 7 and set aside half of it.

Add the oil and pepper, fry: 3 min. 100° speed 1.

At this point add the cuttlefish, flavor: 5 min. Varoma Anticlockwise speed. Soft.

Add wine, blend: 5 min. Varoma Anticlockwise speedSoft.

Add the tomatoes cut into wedges and salt, cook: 25 min. 100° Anticlockwise speed. Soft.

When half cooked add the peas and continue cooking (if the peas are frozen set on Varoma).

When cooked, sprinkle with the remaining chopped parsley and serve... Enjoy your meal!