Good morning world.
Coming back from a weekend away he was there waiting for me: the flavored salt I had prepared a few days before leaving.
The recipe is super simple and fast and I must say that it was a real discovery, to be always used and, above all, on everything.
The only changes I made to the original recipe concern the amount of salt and the speed of the preparation, I personally like a more coarse salt than dusted.
I leave you to imagine the scent of aromatic herbs that has invaded the whole house when I prepared it.
This is one of those recipes to make and especially to have at home, as the Bouillon cube, plus both of them are also ideal to give as gifts for Christmas.
I leave you with the recipe for the thermomix flavored salt with herbs .
See you for the next recipe!
Nea!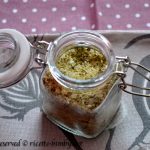 Thermomix Flavored salt with herbs
Ingredients
300

gr

salt

aromatic herbs

enough (basil, rosemary, thyme, mint, oregano)
Instructions
Put the aromatic herbs washed and dried in the jug, add the coarse salt, chop coarsely: 10 sec. speed. 7.

Arrange everything on a pan covered with parchment paper and bake for 5-10 minutes at 180° C.

After cooking, store in sterilized jars... Enjoy your meal!