Good morning, the other day on the occasion of a family party I wanted to prepare some delicious little things for my relatives.
The idea was to do something healthy and good, but above all useful, so I decided for the bouillon cube.
It was the first recipe that our presenter had taught us and since I had already done it, I thought it was something nice and useful.
The recipe is taken from the basic book, I only had to prolong the time because I made it twice.
I usually use a teaspoon to salt the dishes, but then it depends on your taste.
I hope I have been helpful.
I leave you with the recipe for thermomix vegetable bouillon.
See you for the next recipe!
Nea!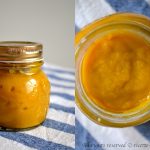 Thermomix vegetable bouillon
Total Time
1
hour
30
minutes
Ingredients
200

gr

celery

2

carrots

1

onion

1

zucchini

1

tomato

1

handful

mushrooms

1

clove

garlic

(optional)

herbs

(rosemary, sage, basil) enough

1

leaf

laurel

30

gr

white wine

200

gr

salt

1

tuft

parsley

50

gr

parmesan

cheese grated (optional)

1

tbsp

extra virgin olive oil
Instructions
First clean, wash and cut all the vegetables and place them in the jug, mince: 10 sec. speed. 7.

Add salt, oil and wine, cook keeping the tilt measuring spoon: 20 min. Varoma speed 2.

Finally add the Parmesan and bring to speed 6 slowly.

Then mix everything: 1 min. from speed. 1 to Turbo.

If you prefer to thicken further, continue cooking for the required time: Varoma speed. 2.

Pour into sterilized glass jars, close them and let them cool completely... Enjoy your meal!
Recipe Notes
It can be stored in the refrigerator for up to 6 months.