Hello everyone, finally today I found a bit of time and took the chance to post the thermomix cream recipe.
The thermomix cream resembles the classic custard, but instead of using just egg yolks, it is made with less entire eggs.
The recipe I use is taken from the basic book and it was one of the first recipes the presenter taught me.
Its use can be different: from garnishing for cakes and sweets to the classic spoonful dessert.
There is also a chocolate variant that, however, I did not make today, just add cocoa powder to the mixture or half of it.
I leave you with the recipe for the thermomix vanilla custard.
See you for the next recipe!
Nea!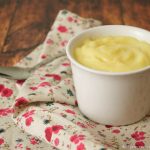 Thermomix vanilla custard
Ingredients
500

gr

milk

2

eggs

100

gr

sugar

1

tsp

vanilla extract

50

gr

plain wheat flour
Instructions
Put lemon zest and sugar, pulverize: 20 sec. speed 7.

Gather at the bottom with the help of a spatula and add milk, eggs, flour and vanilla, cook: 7 mins 90° speed 4.

Pour the mixture into a bowl and cover it in contact with transparent film.

Allow to cool to room temperature and then put in the fridge for at least 20 minutes.

Before serving, keep out of the fridge for a few minutes... Enjoy your meal!
Recipe Notes
If you don't have to use it immediately you can let it cool, cover it with transparent film and put it in the fridge inside a container for no longer than 2-3 days. Or you can freeze it in airtight containers.
For the cocoa version you just need to add 3 tablespoons of bitter cocoa powder to the cream and mix.
For gluten intolerant people, replace the flour with potato starch, and for milk intolerant add lactose-free milk instead of regular.