This Friday I'll leave you with a perfect recipe for Sunday lunch, are you happy?
I haven't published the classic one with meat sauce, because it's already in the basic book, while this one with vegetables I don't think I've seen it.
I practically used this lasagna as a 'fridge empty', so I used all the vegetables I had in the fridge in a single recipe. Better than this.
There are only two of us and since when I prepared it I did the dose for 4, I put the leftover one to freeze in the freezer, so in times of emergency, like those evenings when I get a severe headache because I don't even know my name anymore, I just need to defrost it and heat it for a few minutes.
As I also wrote in the recipe, the types of vegetables are just indicative, in fact a lot depends on seasonality and personal tastes.
What do you think about it? Do you like it?
I leave you with the recipe for the thermomix vegetable lasagne.
See you for the next recipe!
Nea!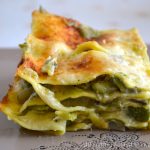 Thermomix vegetable lasagne
Total Time
1
hour
30
minutes
Ingredients
250

gr

zucchini

100

gr

mushrooms

300

gr

asparagus

150

gr

broccoli

2

onions

30

gr

extra virgin olive oil

1

liter

bechamel

(thermomix recipe)

salt

enough

pepper

enough

herbs

enough (optional)

parmesan

enough (grated)

250

gr

lasagne

sheets no pre cooking*
Instructions
Put the onions in the bowl, chop: 10 sec. speed 7.

Gather at the bottom with the help of a spatula and add the oil, fry: 4 min. 100° speed 1.

Add the cleaned vegetables cut into chunks, cook: 5 min. 100° Anticlockwise speed 1.

Add the salt and herbs and continue cooking: 15 min. 100° Anticlockwise speed 1.

Take a rectangular pan, sprinkle the bottom with a drizzle of oil and a few spoons of béchamel sauce.

Place the lasagna close to each other to create a single layer.

Cover with a layer of béchamel sauce, then a layer of vegetables, sprinkle with grated parmesan and reposition another layer of lasagne and so on until the ingredients run out.

Cover the lasagna with the remaining béchamel and parmesan and bake in a preheated oven at 180°C for about 30-40 minutes.

Let it cool slightly and serve… Bon Appetit!
Recipe Notes
The types of vegetables are indicative, you can choose the vegetables you prefer.
*I use this lasagna sheets no pre cooking.