Good afternoon everyone, here is the long-awaited recipe for the Egg salad.
It is an appetizer known by everyone, a dish to be served cold and is suitable for any season.
My sister goes crazy for it and every time I cook it she ends it up in the blink of an eye.
This version prepared with the thermomix is very simple and if it goes along with by the thermomix mayonnaise it is really super good and definitely healthier and more genuine than those we buy.
What do you think, do you like it?
I leave you with the recipe for the thermomix Russian salad.
See you for the next recipe!
Nea!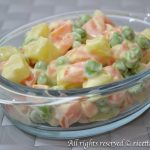 Thermomix Russian salad
Ingredients
200

gr

potatoes

200

gr

peas

200

gr

carrots

mayonnaise

enough

1

liter

water

salt

enough
Instructions
Put the water in the jug, boil: 8 min. Varoma speed. 1.

Meanwhile put the peas in the jug of the varoma, whilethe potatoes and carrots cut into small pieces in the tray and salt.

Put the varoma on the jug, cook: 15 min. Varoma speed. 2, set aside and let it cool.

When the vegetables are lukewarm, add mayonnaise and mix well.

To be stored in the refrigerator until ready to serve… Enjoy your meal!