I am writing you with a Nigella cake in the oven, it as a smell so good you can't imagine it.
Don't worry, I will be publishing that recipe soon as well.
In the past few days I wanted to cook something very simple yet tasty and having a few zucchini in the fridge, I thought about making this delicious pasta with zucchini and shrimp.
It is a dish always well received by everyone and it is great to surprise your guests.
I leave you with the recipe for thermomix pasta with zucchini and shrimp.
See you for the next recipe!
Nea!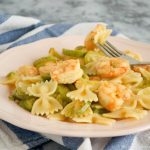 Thermomix Pasta with zucchini and shrimp
Ingredients
3 or 4

zucchini

300

gr

shrimp

30

gr

extra virgin olive oil

1

shallot

50

ml

white wine

parsley

enough

salt

enough

pasta

enough
Instructions
Put the shallot in the bowl, chop: 5 sec. speed 7 and gather on the bottom with the help of the spatula.

Add the minced parsley and oil, brown: 2 min. 100° speed 1.

Add the sliced zucchini and the white wine, blend: 10 min. 100° anticlockwise speed 1.

Now add the peeled shrimp, salt and cook: 10 min. 100° anticlockwise speed 1 (if the result is still liquid, continue cooking for a few minutes at Varoma temperature).

Meanwhile cook the pasta in plenty salted water, drain and season with zucchini and shrimp.

Dish and serve as you prefer with a pinch of pepper... Enjoy your meal!
Recipe Notes
You can also use frozen shrimp, after defrosting them completely.
If you use gluten free pasta, the dish is also edible by celiacs.